2022 Home Care Salary & Benefits Survey
Participants Receive a Complimentary Copy of the Final Report Coming This Fall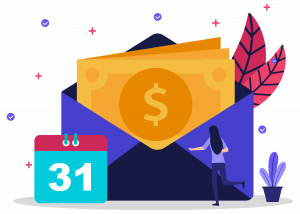 As we begin to recover from the COVID-19 pandemic, Florida's home care providers face multiple challenges, but the most challenging one is retaining and recruiting qualified staff. HCAF can help your agency navigate this undeniable challenge!
For decades now, HCAF has conducted a compensation and fringe benefit survey of home care agencies in our state. In fact, it is the only survey that focuses exclusively on wage and benefits data for Florida providers. This data is compiled in the HCAF Home Care Salary & Benefits Report and published annually in the fall.
New this year, we have added two new pay rate sections. In addition to clinicians paid per hour and per visit, we are now also collecting PRN/per diem rates for both employees and contracted 1099 clinicians. We are also asking for more details on how your marketing staff is paid in terms of any quotas and potential additional compensation. Please help us in providing as much data as possible if your agency utilizes clinicians under these arrangements.
It is our goal to continue to assist providers by understanding how agencies around the state compensate their employees to remain competitive. We need your assistance to ensure that the final report accurately represents geographic variations and includes all segments of the industry, including Medicare-certified, Medicaid-certified, and Private Duty/licensed-only providers.
By collecting and reporting surveys electronically, we save on printing, postage, and data entry costs, as well as being less wasteful. Hopefully, you will find it convenient and efficient in terms of storing and reviewing the report.
As always, participation is open to all Florida-licensed home care providers regardless of HCAF membership, so please help us spread the word!
Why Participate?
Participation has both personal and organizational advantages:
Participants who complete the survey will receive a complimentary copy of the final report! Members who do not submit a survey can purchase the final report for $250 ($350 for prospective members).
The more participants, the more accurate the results. The report will not accurately represent the market if we do not receive enough completed surveys.
If sufficient responses are received from agencies operating in a particular Florida health care region, a region-specific report will be created in addition to the statewide report.
Important Information for Survey Participants
Data will be strictly confidential.
To comply with Federal Trade Commission (FTC) antitrust laws, please report all data as to what rates your agency was paying and the benefits it was providing as of June 30, 2022. Please do not report any data that is more recent than June 30, 2022.
As in previous years, there are two versions of the survey in Excel format: one for Medicare/Medicaid-certified agencies and a simplified version for agencies that are exclusively licensed (Private Duty).
Your data should indicate the number of licensed locations in each health care region. If your pay rates and benefits vary by region, please submit separate surveys for each region where you operate. In instances where rates and benefits apply to multiple locations and regions, we would like to know how many your survey represents in order to calculate weighted averages more accurately.
The deadline to submit the survey is Labor Day, September 5, 2022.
Instructions
Download the Excel file below that corresponds to your agency's license type and any certifications.
If you participated in last year's survey, you should have already received a pre-filled survey in this year's format. If you did not receive it and think you should have, please contact Adara Sloane at asloane@homecarefla.org.
As you prepare your survey submission, you can access job description definitions below. Once it is completed, please email it to Adara Sloane at asloane@homecarefla.org.
If you have questions or need technical assistance, please call (850) 222-8967 or contact us.
Case Manager: Registered nurse that manages the care of the patient from admission to discharge.
High Risk/High-Tech: Registered or specialty nurse or licensed practical nurse that provides nursing care to patients in their home. Performs and is specialized in IV, TPN, Vent C-PAP, Bi-PAP, or any other high-risk or high technology care.
Home Health Aide (HHAide): Nurses aide assisting in the provision of personal care to patients in their homes. (May also be referred to as a certified nursing assistant/CNA)
Licensed Practical Nurse (LPN): Vocational nursing under the general supervision of a registered nurse.
Medical Social Worker (MSW): Independently performs tasks to assist in evaluating a patient's psychological needs. Provides help to solve patient's physical or emotional problems. Works in discharge planning responsibilities. Requires an M.S. degree for Medicare services only.
Occupational Therapist (OT): Develops treatment plan, evaluates and monitors patient progress, administers activities to patients with physical disabilities. May develop programs for daily living. Requires a B.S. degree.
Occupational Therapist Assistant (COTA): Carries out various occupational therapy procedures under the supervision of an occupational therapist (OT).
Physical Therapist (PT): Treats disabled patients using physical therapy procedures as prescribed by a physician. Develops treatment plan, evaluation, and monitors patient progress. Requires state licensure and a B.S. degree.
Physical Therapist Assistant (PTA): Carries out various physical therapy procedures under the supervision of a Physical Therapist. Requires an A.S. degree.
Psychiatric Nurse: Specializes in treating patients who are experiencing mental illnesses or distress. The nurse will carry out individualized plans of care as prescribed by a physician. Common patient issues include anxiety or mood disorders, substance abuse, and various forms of dementia. The nurse will often provide individual counseling to the patient and their family (if applicable) so that they have a better understanding of the illness.
Registered Nurse (RN): Registered nurse.
Respiratory Therapist (RT): Performs therapeutic modalities for patients with respiratory problems. Performs artificial ventilation and provides emergency treatment of acute problems. Requires R.R.C. registration from the National Board for Respiratory Care.
Sign-Up/Admission Visit: Registered nurse, occupational therapist, physical therapist, or speech therapist that performs administrative tasks associated with admitting the patient for the agency's home care services.
Specialty Nurse: Registered nurse with advanced training or recognized level of experience.
Speech Therapist (ST)/Speech Language Pathologist (SLP): Develops, conducts, and performs speech pathology treatments in the home for those with communicative disabilities. Develops treatment plan, evaluation, and monitors patient progress.
Administrator/Executive Director/Chief Executive Officer: Provides oversight of business development, delivery of health care, management, budgetary stability, the productivity of the agency, and planning.
Admissions Nurse: A registered nurse who performs the initial assessment of the patient for appropriateness of services.
Branch/Clinical Manager: Responsible for all clinical patient care as provided in the home.
Business/Office Manager: Instructs, supervises, and assists all office personnel, oversees the total function of the office.
Chief Financial Officer (CFO): Provides oversight of all financial aspects of the home health agency including the budget, funds investment, accounts receivable, cash flow, and the like.
Clinical Director: Responsible for overall clinical management of patients and staff and supports the business plan in organizing and implementing the clinical operations of the company.
Corporate Branch Director: Oversees general management of branch operations, responsible for branch budget, employees, and activities.
Director of Business Development: Establishes clientele, referral, and business relationships throughout the agency's service area.
Director of Community Education: Educates the community, including patients and referral sources, on services provided by the agency.
Director of Managed Care: Responsible for negotiating and managing managed care contracts.
Director of Nursing: Assumes primary responsibility for clinical services provided by the Agency. Directs, coordinates, and supervises all clinical functions. Maintains compliance with federal and state regulations as they apply to the provision of home visits to patients. Assures compliance with agency policies and procedures. Monitors job performance and completion of evaluations and counseling of clinical staff.
Director of Rehabilitation: Responsible for budgetary planning, staffing, competencies, and monitoring productivity for physical, occupational, and speech therapies.
Medical Director: A licensed physician who performs consultative services as needed, such as utilization review, provides expertise and guidance as it relates to issues with attending physicians, etc.
Scheduling Coordinator: Responsible for coordinating scheduling of skilled nurses and home health aides to ensure adequate staffing.
Accountant/Bookkeeper: Maintains the financial records of the organization.
Administrative Assistant: Provides support to administrative staff (i.e., accountant/bookkeeper and billing clerk).
Billing Clerk: Performs duties related to billing.
Clerical/Secretarial/Billing: Performs general administrative assignments such as answering incoming calls, attending to office visitors, word processing, etc.
Data Processing: Performs all duties related to data processing for the agency.
Information Management: Responsible for day-to-day oversight and planning of the information systems services needs of the agency, including managing agency data, information, and technology.
Intake/Home Care Coordinator: Responsible for activities related to new referrals prior to agency admissions, including, but not limited, to working with facilities related to their discharge planning.
Medical Coding Specialist: Responsible for accuracy of codes in the patient records according to the Outcome and Assessment Information Set (OASIS) diagnosis and ICD-10 coding guidelines.
Medical Records Specialist: Responsible for processing clinical record information once received in the office.
Nursing Supervisor: Responsible for direct supervision of staff and patient care.
OASIS Data Processing: Enters and transmits Outcome and Assessment Information Set (OASIS)-related information.
Personnel Manager: Human resources manager responsible for overseeing compliance with employment laws and personnel matters.
Quality Assurance/Risk Management Supervisor: Registered nurse responsible for agency compliance with federal and state regulations and the delivery of quality patient care and services.
Staff Development/Clinical Educator: Responsible for effective orientation of new employees, providing education via in-services, etc.
Utilization Review/Quality Assurance: Registered nurse responsible for ensuring compliance with federal and state laws on behalf of the agency.