Tips for Meeting With Lawmakers
From your local city council to your Senators in Washington, D.C., meeting with your elected officials about home care issues is a lot easier than most people think. Remember, your legislators work for you!
The following are tips for effectively engaging with your lawmakers. To learn more or if you are interested in meeting with your lawmaker or attending an upcoming advocacy event, email Kyle Simon, Senior Director of Policy, Advocacy & Communications, at ksimon@homecarefla.org or call (850) 222-8967.
Identify your main message
Before the meeting, formulate the main message that you want to convey to the legislator. For instance, "Please play a leadership role in advancing policies to expand access to in-home care" or "Please vote for [BILL NUMBER] to [PURPOSE OF THE BILL].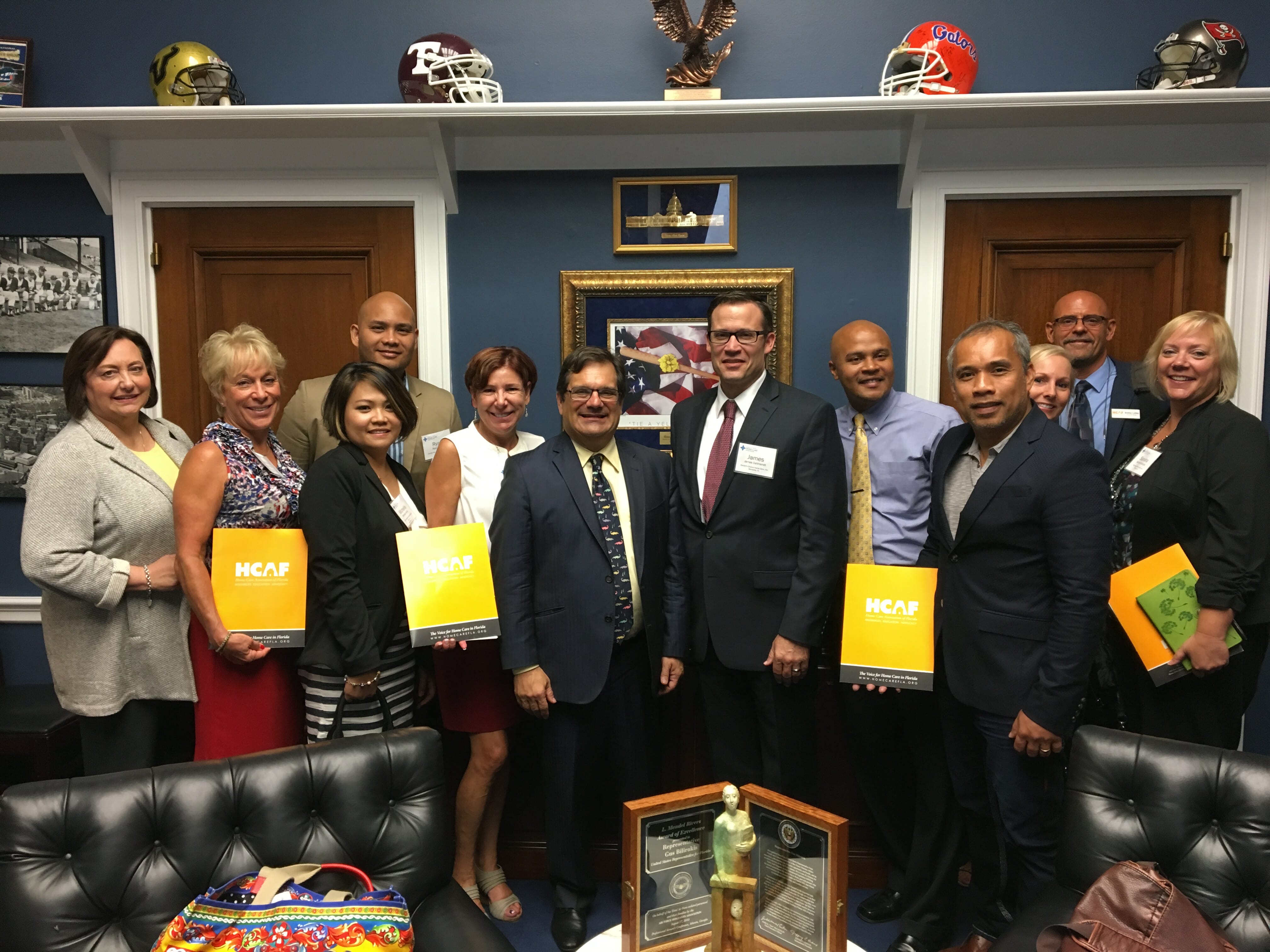 Determine roles for participants
If more than one person is meeting with the legislator, designate a group leader to open and close the meeting and a different person to present each issue or main message so that everyone has the opportunity to engage.
Prepare and practice for the meeting
It's always a good idea to run through what you intend to say before the meeting itself. If you are meeting with a group of people, have each person practice their part in front of the group. Time permitting, hold a dry run of the entire meeting. Business attire is suggested when meeting with legislators in the Capitol. Be sure to bring several copies of your business card for legislators and/or their staff.
Because legislators have very busy schedules, it is key to stay on topic during the meeting. Also, note that the legislator may hijack the agenda or waste valuable time by bringing up unrelated issues. While it is important to be cordial and flexible, this is a meeting for you to relay your concerns to an elected official. Quickly acknowledge and address their issue and redirect the discussion back to the agenda. Don't let them take you off course for more than a moment.
Introduce yourself
Tell the legislator or staff person your name, where you are from, and that you are a constituent (if applicable). If you represent a home care agency, note its name, where it is located, and its footprint (i.e., counties served, number of employees and patients/clients, etc.). If you have any family, social, business, or political ties to the legislator, mention them as well. If applicable, thank the legislator for a good stand they recently took on an issue and/or mention if you voted for the member. At a minimum, thank them for taking the time to meet with you.
If the legislator is unavailable to meet at the last minute, don't get discouraged. Legislators are very busy and could be called out of the meeting — or not available at all — leaving you with their legislative aide who handles the issue. Meeting with a staff member can be equally or even more productive than meeting with the legislator. Staff can have tremendous influence over legislators and in many cases know far more about the legislation than the legislators themselves. Be sure to ask the staff person to convey your views and legislative requests to their boss.
Take the initiative
State clearly and concisely what issue you want to discuss, what your position is, and what action you want the legislator to take. Follow this with facts about why they should take your position. Drop names. Mention any other organizations, important individuals, government officials, and legislators that support your position. Ask questions the legislator can respond "yes" or "no". Press politely for a commitment, unless the legislator is clearly opposed to your position or to making a commitment.
Don't answer what you don't know. It's okay to not know all the answers. Answer questions to the best of your ability, and if you don't know an answer, admit it. This ensures you maintain credibility, and it provides an opportunity for a relevant follow-up email/letter to provide any additional information.
Make a local connection
Stress how the issue will affect the legislator's district or state and, if possible, tell a personal story that highlights your experience with the issue and why you care about it.
Provide a "leave-behind" document
Provide the legislator with a fact sheet/policy briefing on a bill or issue that outlines your position and explains what the bill does (if there is one) and why they should support your viewpoint.
Follow up
Always follow up with a prompt thank-you email/letter that reiterates your key points and any commitments the legislator made to you. Include all follow-up information you promised to provide or contact HCAF staff for assistance. If you took a picture with the legislator, post it on social media and tag them.