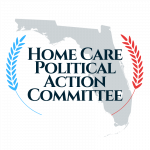 Home Care Political Action Committee
Make an Investment in Your Profession By Contributing Today
While HCAF advocates for you before Congress and the Florida Legislature, the Home Care Political Action Committee (PAC) serves as your political voice. The PAC was formed to elect home care-friendly candidates to the Florida Legislature and the Governor and Cabinet.
The PAC provides Florida home care professionals an opportunity to combine their resources with others in the home care community to shape the political debate in our state. Without the PAC, your voice in Tallahassee falls silent, and as the saying goes in policymaking, "If you don't have a seat at the table, you're probably on the menu."
Every Florida home care professional must take an active role in the political process through campaign contributions to protect our businesses and the patients/clients who depend on in-home care. HCAF membership dues do not support the PAC, and your support is voluntary but necessary.
Join Florida home care agencies, industry professionals, and stakeholders by making a financial investment to advance your profession!
Support the 2022 Fundraising Campaign
The 2022 election ballot will feature candidates for Governor, Cabinet, all 120 House of Representatives seats, and 20 Senate seats. The PAC needs your support to ensure that the home care community has a seat at the policymaking table in Tallahassee.
Help the PAC invest in future home care champions by contributing today toward our $50,000 fundraising goal!
2022 Candidates Receiving PAC Financial Support
The objectives of the Home Care PAC are to:
Promote and strive for the improvement of government by encouraging and stimulating home care agencies and others to take a more active and effective part in governmental affairs;
Encourage home care agencies and others to understand the nature and actions of the government, as to important political issues, and as to the records of officeholders and candidates for elective office at all levels of government;
Assist home care agencies and others in organizing themselves for more effective political action and in carrying out their civil responsibilities; and
Support candidates for election to public office at the local and state levels who share the views of home care providers on issues important to the home care industry.
Click here to view the PAC bylaws.
Below are some frequently asked questions about the Home Care PAC. For more information, email Kyle Simon, Director of Government Affairs and Communications, at ksimon@homecarefla.org or call (850) 222-8967.
What is a political action committee? A political action committee (PAC) is a group or organization that donates funds to political candidates. Like labor unions, trade associations, and all other interest group-related PACs, the Home Care Political Action Committee operates according to Florida law. PAC members contribute to the PAC, which the PAC then uses to support a bipartisan selection of political candidates, most of whom are candidates for the Florida Legislature.
How do I become a member of the Home Care PAC? To become a member, simply make a contribution to the PAC. Businesses and individuals may become members, and there are no contribution limits.
Why should I give to the Home Care PAC? Giving to the PAC helps you to get more out of your own political contributions. The PAC essentially "pools" smaller individual donations into a more sizable one that often garners more attention from the political candidate who receives the PAC donation.
Where does my money go when I give it to the Home Care PAC? Your contribution to PAC is combined with other PAC member donations, which then goes to political candidates who understand and support in-home care for Floridians. The PAC is non-partisan, so it supports Republicans and Democrats alike, and PAC support goes to both senior and junior legislators across Florida.
How does Home Care PAC determine which candidates to support? The PAC Board of Directors considers a variety of factors in determining which political candidates to support, including a candidate's leadership positions, committee assignments, and voting record (if applicable), and his/her relationship and background specific to the Florida home care industry. Our experienced political team will also work with you in possibly identifying specific candidates and other entities that support our goals and to whom you may want to contribute a part of your total contribution. To access the Home Care PAC's past expenditures and contributions, search the Florida Division of Elections website or send us a message for assistance.
If I have a friend who is running for office, will the Home Care PAC give money to their campaign? We encourage all PAC members to contact us to express their support for a particular candidate. The PAC Board of Directors evaluates each member's request(s) for political contributions. While we cannot promise that your particular candidate will receive a contribution from the PAC, we welcome your input and recommendations.
I plan to donate $1,000 to the Home Care PAC this year, but I don't want to write such a large check. Is there any way to break up my donation? Yes. You can request an invoice each month or sign up for automatic monthly payments.
My invoice is incorrect. How can I fix this error? Should you find an error or simply want more information about your invoice, please send us a message or call (850) 222-8967.
Are contributions to the Home Care PAC tax-deductible? All contributions to the Home Care PAC are voluntary, and you may choose not to contribute. Contributions or gifts to the PAC are not deductible as charitable contributions for federal income tax purposes. The Home Care PAC is required to report the name and mailing address of every contributor to the Florida Division of elections, as well as the occupation of all contributors whose contributions exceed $100 in a calendar year. Contributor information is publically available on the Florida Division of Elections website.
I want to give money to support my Florida legislators. Can I take my donation with me when I visit my meet with my Senator and Representative in his/her government office? No. Handing or mailing a political contribution to a legislative office is strictly prohibited since the law requires that official legislative business and campaign activities remain separate. If you would like help in arranging details for getting your contribution to your legislator, email Kyle Simon, Deputy Treasurer, at ksimon@homecarefla.org or call (850) 222-8967. We would be happy to work with you to coordinate a check delivery meeting.
I am personally a member of the Green Party and I also contribute $5,000 each year to Home Care PAC. Can I request that the PAC direct my funds only to Reform Party candidates? No. This is called "earmarking", and it's illegal. The PAC gives to political candidates from various parties and cannot accommodate such a request.
To be considered for financial support by the PAC, you must be a candidate for a Florida state-level elected office (i.e., Governor/Lieutenant Governor, Attorney General, Chief Financial Officer, Commissioner of Agriculture and Consumer Services, and State Legislature).
If you are seeking PAC support, email your request to Kyle Simon, Deputy Treasurer, at ksimon@homecarefla.org.
Requests will be reviewed and considered by the Board of Directors.