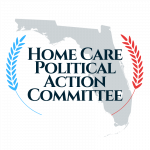 Home Care Political Action Committee
Make an Investment in Your Profession By Contributing Today!
​​The Home Care Political Action Committee (PAC) was established to organize political action on behalf of Florida home care providers. Through the PAC, home care businesses and professionals can combine their resources with others in the industry to invest in home care-friendly candidates seeking election to the state executive and legislative branches of government.
While HCAF advocates for you before Congress and the Florida Legislature, the Home Care Political Action Committee (PAC) serves as your political voice. Without the PAC, your voice in Tallahassee falls silent, and as the saying goes in policymaking, "If you don't have a seat at the table, you're probably on the menu."
The Home Care PAC is a voluntary, non-profit, and non-partisan organization regulated by the Florida Division of Elections. HCAF membership dues do not support the PAC, and your support is voluntary but necessary.
Every Florida home care business and professional must take an active role in the political process through campaign contributions to protect our businesses and the patients/clients who depend on in-home care. Join Florida home care agencies, industry professionals, and stakeholders by making a financial investment to advance your profession!
2022 Fundraising Campaign Goal: $50,000
Offices on the 2022 election ballot include Governor/Lieutenant Governor, the Cabinet, and all 160 Senate and House of Representatives seats. Please help the PAC invest in future home care champions by making a contribution toward our $50,000 goal.
Current Candidates Receiving PAC Support